Ek Aur Prayaas extends this invitation for the launch of Dr. Manmohan Singh: A Decade of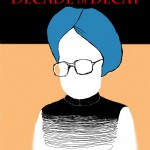 Decay by M R Venkatesh.
Chief Guest: Sh. Devendra Fadnavis (BJP President, Mahasrashtra State Unit); Guest of Honours Sh. Suresh Prabhu and Sh. Vinay Sahasrabuddhe.
Mumbai launch of Book, Meet the author – Saturday 24th August' 2013 at Indian Merchants Chambers
5.30pm – 6.00pm: Registration and Tea 6.00pm – 8.00pm: Book Release and interaction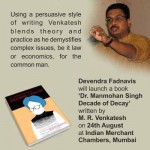 The Book is a compilation of select articles authored by M R Venkatesh, mostly in Rediff.com. To the reader, his writings offer a ring side view of the debilitating state of affairs in India under the leadership of Dr. Manmohan Singh. Making a strong case for a small yet effective government, Venkatesh canvasses for sweeping economic, administrative and judicial reforms while simultaneously pointing out to the gargantuan failures of Dr. Manmohan Singh's administration. In a refreshing departure from the known suspects who end up merely being critical of the Government, he also offers various alternatives to the challenges confronting the country.
Venue:
Walchand Hirachand Hall
Indian Merchants Chambers, 3rd floor
IMC Bldg., IMC Marg,
Next to Churchgate station, Opposite Asiatic Shopping Centre
Churchgate, Mumbai – 400 020 India